Start Strong
START STRONG | Start 2023 Right
As we begin this NEW year, we want to invite you to join us on the next leg of the journey as we take our next steps in faith. Specifically, we want to invite you to:
Find your PEOPLE
Join a TEAM
Plan Your GIVING
Below you will find a host of opportunities to Connect here at ECC, to find your people, join a team, and take your next step toward being part of the ECC family.
Find Your People
We are made to be in community with one another.  We can't do this alone.  We would love to help you find your people as we start 2023.  Here are some opportunities. more...
Small Church
Join a small group.
What is Small Church?  Small Church is Emmanuel Covenant Church intentionally gathering in neighborhoods in order to bring the Experience of God into our communities.   Small Churches gather to grow closer to one another and closer to God.  If you would like more information about Small Church, visit www.emmanuel.church/community-life/small-church/ or email Jason Peterson.
---
---
Studio Church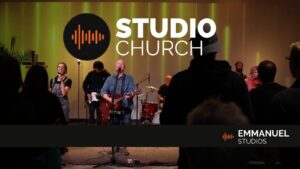 Join us on Tuesday nights at 7:30pm at our Emmanuel Studios in New Brighton.  We will have a worship service with great music, powerful teaching, and deep community.  Come early.  Stay late.  Get connected.
---
Adventurous Women Boundary Waters
Gather with women from Emmanuel for an amazing weekend in the heart of the BWCA! Whether you enjoy the snowy outdoors or games by a cozy fireplace, this is an event for you. For more information about Adventurous Christians, Covenant's Pine's Wilderness Retreat, click
here
.
We will meet at 9:30am on Friday, January 20, at the Forest Lake Park-n-Ride at Running Aces (15201 Zurich St, Columbus, MN 55025).
Total Cost of the Retreat is $140 (plus $ for gas and a meal on the way to camp). AC offers a beautiful lodge and sleeping accommodations, but does not have indoor toilets. While the outhouses are top notch, we want everyone to be aware in advance. Ski equipment is also available for free, but some ski trails require a pass which can be purchased for $12-$18.
Register today, or contact Kelsey Crenshaw (kelsey@emmanuel.church) with any questions. Registration and full payment are due by January 6.
---
ENTITLEMENT FIX | A Parenting Course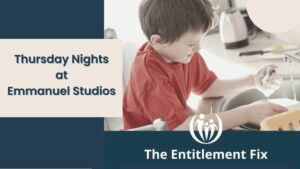 Infants are naturally entitled to have all their needs met by you and don't have to say thank you. Adults are not. That transition from healthy infant entitlement to healthy adult interdependence has always been difficult. You are not alone in this struggle, and neither are your kids! Teaching responsibility and gratitude is possible.
---
IF: 2023 Women's Conference

IF:2023 is returning to Emmanuel Studios March 3-4.  We are thrilled for the opportunity to host a local event again this year.  IF:GATHERING is a two-day event where women all over the world gather together, get equipped, and discover the next step in their calling: to go and make disciples.
We desperately want to stay faithful in these times, but we know we can't muster up the faith all on our own. IF:2023 matters to us, because for two days we get to gather and remind each other that God is who we need. God is who will provide. We gather for two days of worship, with our Bibles, and we ask God to move.
Register now for this awesome 2-day event.  This year's price of $40 includes breakfast & lunch on Saturday.  Are you a college student?  Attend for Free!
What is IF?  CLICK HERE to watch a quick video describing IF.
For more information visit www.ifgathering.com or email Katie Hoganson (katie.hoganson@emmanuel.church)
Emmanuel Studios
1775 Old Highway 8, Suite 111
New Brighton, MN, 55112
---
Women's Game Night

The second Friday night of the month is Women's Game Night at Emmanuel Studios.  Come for an evening of hanging out, playing games, and just getting to know other women at Emmanuel.
8:00pm at
Emmanuel Studios
1775 Old HIghway 8
New Brighton, MN 55112
Join the Group
For more information contact Megan DeHaan
---
Men's Game NIght

Join with other ECC guys on the first and third Saturday nights each month for game night where we can build community, share some laughs, and play some serious games! Throughout the year this group will gather together on Saturday nights to enrich relationships by sitting down to some friendly board games of various kinds.
Young Adults Group

Meeting on Sunday nights twice a month, Young Adults at ECC provides a chance to find community, explore faith, and have fun with others 18-30. Join us 7:00-8:30pm at Emmanuel Studios as we eat, laugh, and talk together.
Join the Group for more information contact Pastor Dan (dan@emmanuel.church).
Join a Team
The Church is at its best when we are serving and loving one another in community. We can help you the team that is right for you. more...
Serve With Us
Are you looking for a way to serve and get connected at Emmanuel? Join a team and start 2023 strong.  We have many opportunities from Welcome Teams, to Kids and TEENs, to technical arts and worship.  We even have maintenance teams, building teams, outreach teams, and so many other opportunities.  Join a team today.
---
ECC Kids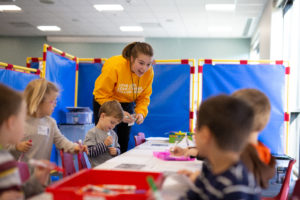 One of the best ways to care for families is to care for their kids. God has entrusted our church with a LOT of kids, and there's always a need on Sunday mornings for small group leaders, classroom assistants, administrative support, and help with setting up and taking down.
Get started today by submitting one of the following applications:
To learn more, visit www.emmanuel.church/serve or contact Kelsey Crenshaw.
---
ECC Teen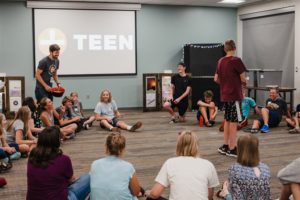 Think about how many life-altering decisions are made during the teen years! We're always in need of caring mentors who can help us come alongside teens and their families during these formative years. Our Youth Group meets on Wednesday nights during the school year, and we offer special programs and events year-round.
For more information contact Dan Swartz.
---
Hospitality Team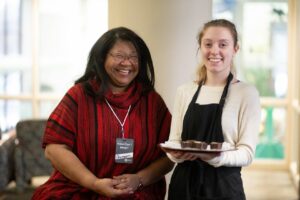 This is the team that brews the coffee and keeps our treat table filled with goodies on Sunday mornings and other events.
For more information contact Kelsey Crenshaw.
---
Prayer Team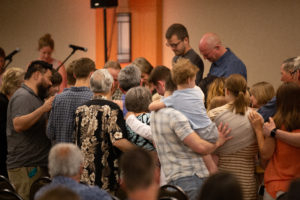 A team of committed men and women pray for every request that comes our way. We also make personalized prayer available during and after every Sunday service.
For more information about how you can be involved contact Mike Lindsey.
---
Worship & Tech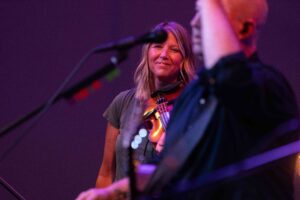 This team includes our worship band, audio mixing, and video production. The people who decorate our Worship Center are also part of this team. If you love music, electronics, or making things beautiful, start a conversation with Jason.
For more information contact Jason Peterson.
---
Sunday Ushers, Greeters, & Welcome Team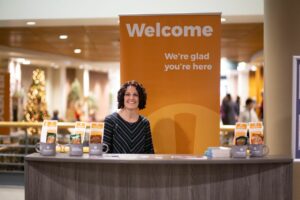 Who doesn't like to feel welcomed? First time guests visit Emmanuel almost every Sunday. This is one of the teams who communicates, "We've been expecting you" to those brave souls who take that big step of a first visit. There are opportunities to serve for those who love to meet new people and those who prefer to work behind the scenes.
For more information contact Katie Hoganson.
---
Cleaning And/Or Maintenance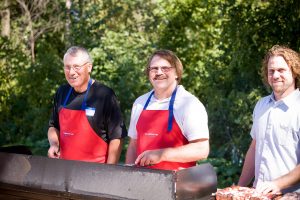 We have an office in Shoreview and a Studio Space for meetings, filming, youth and adult events, we have a lot of space to care for! Be part of a team of volunteers who saves our church thousands of dollars in custodial fees so we can invest them in better ways.
For more information contact Kelsey Crenshaw.
---
Sunday Set-Up & Take Down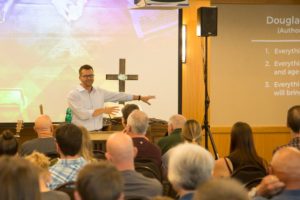 We are portable church that sets up and tears down every week.  Even, if it's hard for you to commit to a specific week, we can always use people to help with set-up or take-down. We can train you in so you'll be ready to jump in as your schedule allows.
For more information contact Kelsey Crenshaw.
---
Serving Communion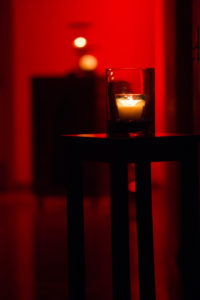 We gather around the Lord's Table on a monthly basis. This is the team that prepares and serves this holy meal.
For more information contact Jason Peterson.
---
Leading / Hosting A Small Church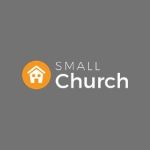 Life change happens when we do life together in Jesus' name. Contact Jason Peterson to learn more about leading or hosting a Small Church.
---
Plan Your Giving
Giving back to God through tithes and offerings is an act of worship and just like everything else in life it won't happen without intentionality.  It helps to make a plan.  more...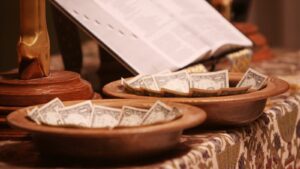 How much will you give? How frequently? The start of the year is a great time to evaluate your giving, transition to online giving, or start giving for the first time.
---